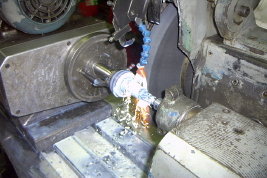 Hobbing, Broaching and Grinding
Accurate grinds are critical for the many press fits that our products require during assembly.
Value & Versatility
For gear cutting, we use Barber Colman hobbing machines which are economical to operate. They are often run with our turning machines as a cell, keeping costs down and providing a fast turnaround.
We accommodate special product lines and can help you with any type of project you may have.
Please contact us for more information or to submit a quote request.